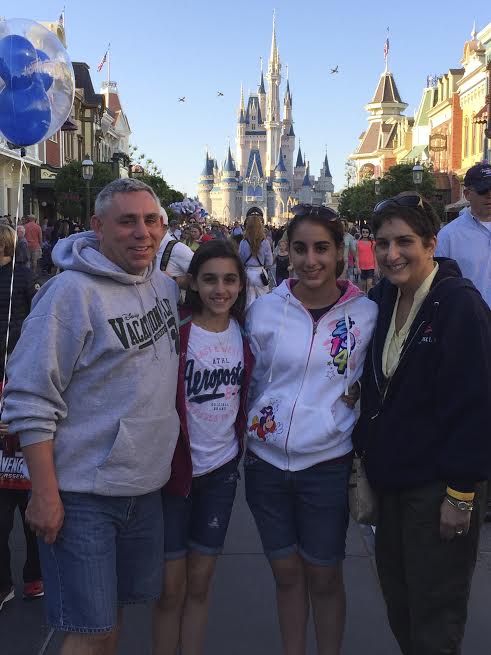 While I've always been a fan of Disney shows and movies, I had only set foot in a Disney park twice in my childhood – at Disneyland. I don't even remember my first trip as a 2 year old, and my second as a teenager is a faint memory. I only remember riding Space Mountain and the Matterhorn Bobsleds! When I got to Walt Disney World as an adult with my husband, I was hooked! I had no idea there was so much to enjoy, and it just keeps getting bigger and better with every visit! I've been lucky enough to visit WDW many times with my husband, our daughters from the time they were babies, and our parents. I've planned surprise trips, multi-family gatherings, land and sea trips and more. We've also visited Disneyland Resort and Disneyland Paris, Disney's Aulani Resort and Spa in Hawaii, and enjoyed multiple Disney Cruises, including Alaska! Disney is so much more than a vacation. For us, it's become a way of life! I have been known to break out in a Disney song at any moment, and can connect just about anything to a Disney movie or attraction. My philosophy on travel is that you don't go just to see things, you go for an experience and to make memories. We have made so many wonderful memories on our Disney vacations and I'd like to help you do the same!
Disney vacations are wonderful, but they do require some advance knowledge and planning to get the most out of your trip. Here's where I can help you! Disney is constantly changing, and it can take time and effort to keep up. I am so happy to be able to help people by taking on that job for them. I've got the inside track on all the latest information and tips for you to have the most magical Disney trip! I've helped many friends plan their vacations, and so many have said I should get paid for it. So, I became a travel agent!! I look forward to helping you plan your family's next Disney vacation so you can make your own magical memories!
It will be my pleasure to assist you with you next vacation. Please contact me at 1-888-642-5398 ext 767 or email me at Sheree at DreamComeTrueVacations.com
As a graduate of the College of Disney Knowledge, Sheree Mazzarese is a Disney Specialist, which indicates an individual who has attained a special knowledge of Disney Destinations (not an agent, affiliate or employee of Disney).