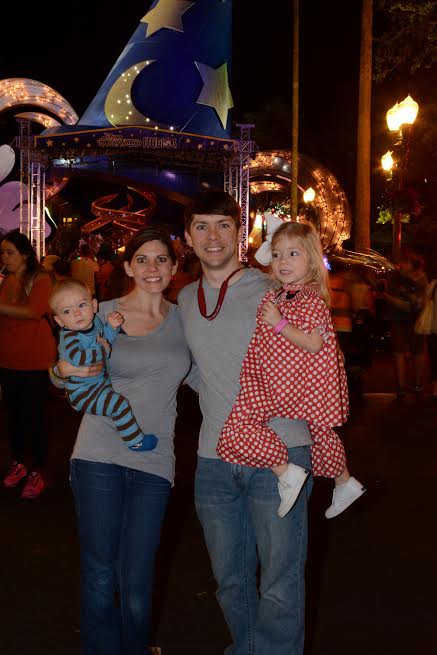 Like many, my love for Disney began as a child. I watched the movies, wore the princess dresses, and eventually, visited "The World". I was lucky enough to have a sister 10 years younger than me which meant I had the opportunity to go back to Disney World as a teenager! I still have vivid memories from that trip of meals at Chef Mickey's and watching my baby sister twirl her napkin in the air like a helicopter while the "Fab 5" paraded around the dining room. (She actually got so excited that she fell out of her chair and got a nice goose egg on her head, but hey, it's a memory!)
Naturally, when my own daughter developed a Peter Pan obsession, I got the itch to begin planning our first family trip to Walt Disney World—and what better time to go than her 3rd birthday! The memories we made on that trip will last me a lifetime. From the moment we walked into Chef Mickey's and she called out to Mickey Mouse like he was her long lost best friend, to the time she spotted Minnie as we walked down Main Street USA and took off with arms wide open—I fully expected a Cast Member to stop her but instead, Minnie hugged her right back and a photographer knelt down and began snapping pictures. I knew then that this was my "happy place"!
That feeling was confirmed the following year when we went back to Disney World, this time as a family of four with our 7 month old son! One of my favorite things about Disney is how accommodating they are to families and guests of all ages. I was able to bring my infant son on almost every ride and attraction with us. It was an incredible trip and never once did we regret bringing such a young baby (he even slept all night throughout our entire stay—true Disney magic!).
These are just a few of the instances from which I developed a love of all things Disney and a passion to help others create priceless memories just as our family has. It absolutely thrills me to see clients experience the magic of a Disney trip that I have planned for them. I have been to Disney as a child, as a teenager, with a toddler, with an infant, as an expecting mother and as a nursing mother and can tell you that no matter what stage of life you're in, you can absolutely have a fairy-tale Disney experience! From selecting the perfect resort and making Advanced Dining Reservations, to booking an appointment at the Bibbidi Bobbidi Boutique or Pirate's League and utilizing the FastPass+ system—let me help make your vacation dreams come true with a magical, stress-free Disney destination vacation!
It will be my pleasure to assist you with your next vacation. Please contact me at 1-888-642-5398 ext 768 or email me at Amanda at DreamComeTrueVacations.com .
As a graduate of the College of Disney Knowledge, Amanda Warrington is a Disney Specialist, which indicates an individual who has attained a special knowledge of Disney Destinations (not an agent, affiliate or employee of Disney).