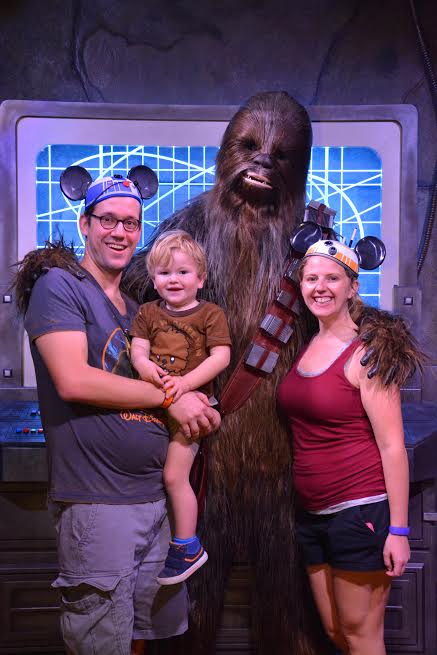 I used to think that experiencing Walt Disney World as a kid was the greatest thing in the world, then I became a mom. The first time I took my son to Disney he was only 9 months old and we were going for my mom's 65th birthday. I thought my son would have fun but not really understand what was going on. I soon discovered how wrong I was. We started our trip with dinner at Chef Mickey's. When my son saw Goofy, his eyes lit up and he started giggling like only babies can. From that moment on he was hooked! Since Disney has very few rides with height restrictions, he was able to ride most of the rides. He seemed to love Dumbo the most. We bought him a toy Dumbo on that trip and every time he played with it he would make it fly in the sky. Once he could talk, this was always accompanied by "Dumbo, fly, air!" Every time I tell this story, I have to fight back the tears in my eyes because it is one of my favorite memories.
I have been going to Walt Disney World annually (some years more than once) since 1993, when I was 8 years old.  I have been lucky enough to go as a kid, a teenager, an adult, an aunt, and a mom. I have been there with groups as small as 2 and as big as 11 with people ranging from infants to grandparents. I have seen many changes over the years and I have also worked to constantly keep up with those changes from trip to trip and year to year.  My family and friends count on this expertise when in Disney and preparing to travel there. Each time a new resort, restaurant, or ride opens, I try to experience it! With an ever changing resort like Disney, this is no easy task and there are still some that I have not yet tried but want to.
As a College of Disney Knowledge graduate, I am able to plan trips to any of Disney's destinations including: Walt Disney World, Disneyland, Disney Cruise Line, Adventures by Disney, and Aulani Resort & Spa. No matter what type of group you have or what you want your trip to be like, I can help you plan the perfect, magical vacation. I have also planned trips at every price level so I can help you fit your dream vacation into your real budget. One of the lines from my favorite attraction, The Carousel of Progress, is "There's a great big beautiful tomorrow shining at the end of every day!" I want to show you what your tomorrow can be at any of the magical Disney destinations.
It will be my pleasure to assist you with your next vacation. Please contact me at 1-888-642-5398 ext 737 or email me at Morgan at DreamComeTrueVacations.com .
As a graduate of the College of Disney Knowledge, Morgan Lewis Endlich is a Disney Specialist, which indicates an individual who has attained a special knowledge of Disney Destinations (not an agent, affiliate or employee of Disney).