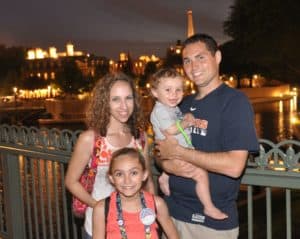 Walt Disney said, "All our dreams can come true if we have the courage to pursue them." My Disney dreams have certainly come true and I want to make your dreams become reality too.
My love of all things Disney began in 1984 when my parents took me on my first trip to Walt Disney World. The Magic increases with each trip I take. I get goosebumps every time I see Cinderella Castle and the nighttime entertainment that Walt Disney World provides brings a tear to my eye.
I am a Disney fanatic and that is the nickname I've been given by my friends and family. They know that whenever they see me, I'm going to have something to say about Disney. Whether it be a new attraction or a piece of trivia, I'm always excited to share my new discoveries with the people around me. For me, planning vacations are half the fun! I enjoy figuring out where to eat and which parks are the best for each day.
Since my first trip, I have traveled with extended family, with a young child and as an expectant mother. I've experienced Walt Disney World during the crowds and heat of the summer months and during value season when the crowds and weather are much more tolerable. Thinking about surprising someone special with a Disney vacation? I've done that too! No matter what kind of trip you're thinking about, where you want to go, or who you're traveling with, I can help you with all the details.
As a graduate of the College of Disney Knowledge, Meghan Fox is a Disney Specialist, which indicates an individual who has attained a special knowledge of Disney Destinations (not an agent, affiliate or employee of Disney).
Contact Meghan today to begin planning your next Disney Vacation!