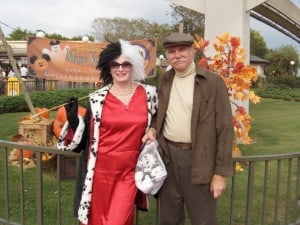 I have been exposed to the Disney Magic throughout my life. As a small child there was the original Mickey Mouse Club followed by Walt Disney Presents and the Wonderful World of Color. When it came to selecting a honeymoon location it was an easy choice to visit the still young Walt Disney World. Since that time in 1974, which gives me over 47 years of Disney experience, we have visited numerous times and stayed at most of the different resort hotels. We have visited in every season and have experienced the major special events that correspond to these seasons.
My children grew up as "Disney kids", anxiously awaiting their next visit to see Mickey, as much as me. I am now beginning with the "Disney grandchildren", and thoroughly enjoying the looks of wonder, joy, amazement and happiness that lights up their little faces.
Having personally planned all but one of my own trips, I have come to learn what works well and I am happy to share my expertise with new friends and families .I have planned trips for parties of two up to a family of twelve. Over the years, I have been regarded as the Disney go-to guy, both at work and with our extended family. If I don't have an immediate answer to a Disney vacation question, I will call, read and research until a resolution is found.
I will be with you through all phases of your vacation planning process. I will book your accommodations, make dining reservations, arrange ticket purchases, and even supply an itinerary. Just think of our service as a one-stop shopping for Disney Magic. Whether you choose Walt Disney World, Disneyland, Disney Cruise Line, Disney's Aulani resort in Hawaii or Adventures By Disney guided tours, we are there for you. I have also received Specialist Certification from Universal Orlando, and have booked with several of the other major cruise lines.
Walt Disney once said "The way to get started is to quit talking and begin doing". I am here to help you begin.
Thomas can be contacted at 1-888-MICKEY8/1-888-642-5398 x704 or via e-mail at thomas at dreamcometruevacations.com