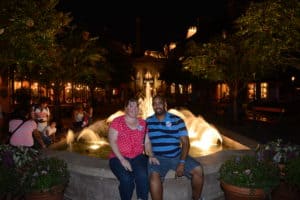 My love of all things Disney started when I was a child. I remember hurrying to get finished with dinner on Sunday nights so we could watch the Wonderful World of Disney. I always loved the segments where Walt would talk about his new theme park, and dreamed of the day I would be able to experience them in person. Fast forward to adulthood, when Disney became my vacation of choice.
My husband proposed on the Disney Magic at Palo's (an elegant restaurant on the top deck) at sunset on a day when we were in the middle of the ocean, and even arranged for the ship's photographer to be there to capture the moment. It was so perfect, that even the lady at the next table was crying! From there, we went straight to the travel desk to book our honeymoon! We have taken many Disney vacations, including our Honeymoon, surprise trips with our kids, birthday celebrations, trips with extended family, "just because" vacations, and many cruises (including a Disney cruise to Hawaii for our anniversary).
Disney is constantly changing and can be a little overwhelming at times. That is where I can help. As a graduate of the College of Disney Knowledge, I stay on top of what is new to Disney Vacations. Staying current allows me to customize your vacation to suit your preferences and budget, while still bringing the magic that Disney is known for.
Let me help plan a vacation that will create amazing memories that you and your family will cherish for a lifetime.
Please contact me at 1-888-642-5398 ext 710 or email me at Jodi at DreamComeTrueVacations.com .
As a graduate of the College of Disney Knowledge, Jodi Welch is a Disney Specialist, which indicates an individual who has attained a special knowledge of Disney Destinations (not an agent, affiliate or employee of Disney).