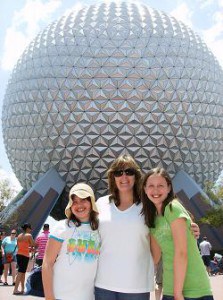 Since opening day in 1955 when Walt said " To all who come to this happy place- Welcome", Disney destinations have been the perfect place for everyone, children and adults, to come together, have fun, and create treasured memories.
My passion for Disney travel began on my very first trip, on my honeymoon at Walt Disney World in 1991. I had no idea about all that Disney had to offer, and although the trip was special, I realized that it could have been better if I had received planning assistance from someone who was knowledgeable about Disney travel. I was determined to learn everything there was to know before my next trip, and to be sure to always have a plan! That was 20 years ago, and I have never stopped educating myself about all that a Disney vacation can provide. Now, after many wonderful vacations, my family and I have so many cherished memories, and we still look forward to having new experiences and creating new moments to remember. For me, planning these vacations is as much fun as being there!
As a College of Disney Knowledge graduate, I can help you customize your vacation to suit your preferences and your budget. Whether this is your first trip or your twenty-first, I will help you create a vacation that is perfect for you. I can help with selecting a resort or cruise, dining reservations, meeting characters, special shows, tours, and activities. I will create your intinerary with your touring style and special needs in mind. Disney truly has something for everyone, and I will use my enthusiasm, knowledge, and experience to create your unique vacation. Whether you want to visit Florida or California, take a journey on the seas or across the globe, I can help you find your happy place and make your Disney vacation dream come true!
Contact Patti at patti at dreamcometruevacations dot com.