What do you get when you mix a travel addiction with a Disney obsession? The perfect Travel Advisor. I have a hard time visiting the same place twice because there are so many places I still want to see in the world. The one exception to that is always Disney. Every time I go to Walt Disney World, it is like I am experiencing it for the first time. From the Himalayas to a café in Paris, Disney transports me around the world.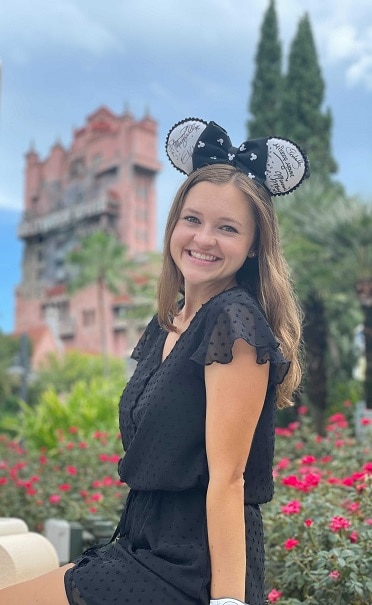 I decided to join this wonderful team when I was sitting at home one day planning three different trips to Walt Disney World for friends of mine. One of them asked me why I didn't do this professionally, and that's the day I applied to Dream Come True Vacations. I love to share my experience with others because a lot goes into planning a Disney vacation and I want to make sure everyone has as magical of a trip as possible which includes stress-free planning. Going to any Disney destination is like stepping into a fairytale; the stress of the world stays at the gate, and you enter a whole new world. There is no way to explain that feeling, you just have to experience it for yourself and I'd love to help you get there!
There is more to Orlando than Disney World, and I am certified to sell Universal Vacations as well. Whether you want to add onto your Disney trip or go spend your whole vacation at Universal, I am here to help!
When I am not in Orlando, I am on a cruise ship or on a plane. My expertise doesn't stop at Disney, and I am here to make all of your vacations as magical as your trips to Disney. I have been to 49 states, 22 countries/territories, 18 national parks, and been on 6 cruises. All of my experiences help me be able to book the perfect trip for my clients. From the moment you decide you want to take a vacation to when you return home, I am here every step of the way.
"There's the whole world at your feet" Mary Poppins
Dara Thompson
FB: Dara with Dream Come True Vacations
Instagram: @destinationsbydara
Phone: (888) 642-5398 x760
As a graduate of the College of Disney Knowledge, Dara Thompson is a Disney Specialist, which indicates an individual who has attained a special knowledge of Disney Destinations (not an agent, affiliate or employee of Disney).