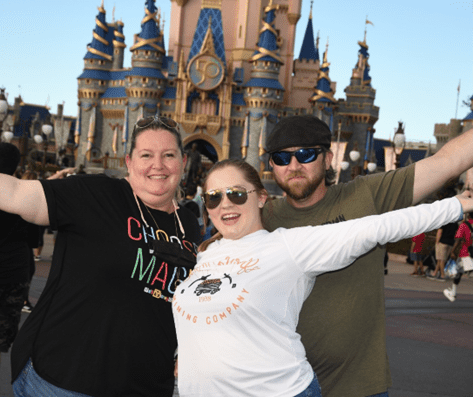 For me, my favorite place to be in the whole world is on any Disney Cruise Line Ship sailing to anywhere in the world, with the people I love most. I truly believe that the magic of a Disney vacation is that they have something for everyone, and I would love to help you find your favorite place in the world.
A little about me: I am a mom of two, a U.S. Army veteran, a military wife, an I/O psychologist by day, and a travel advisor who specializes in Disney by night. I am a seasoned Walt Disney World Traveler, a Disney Cruise Line Platinum Castaway Club Member, a Walt Disney World Annual passholder, and a Disney Vacation Club member.
My first trip to Walt Disney World in 2009 was a magical disaster. Not knowing how much pre-planning was needed or any understanding of exactly how much there was to do in Walt Disney World, we found ourselves showing up to all the right places at the wrong times. Despite our terrible timing, lack of preparation, and constant confusion and frustration during our first trip, we still experienced the magic that keeps bringing us back to Walt Disney World. In fact, what was "a once-in-a-lifetime vacation", turned into a lifestyle. Since 2009, we have visited Walt Disney World over 50 times. In 2013, after my husband returned from a long deployment, we took a family vacation on our first Disney Cruise. My obsession with Disney vacations only grew stronger, and since then, we have sailed over 19 times on Disney Ships.
After so many Disney vacations, I have the knowledge and the experience to help others create magical experiences. I have made it my J.O.B. to know all the details about all types of Disney Vacations so that Disney never has the chance to catch me or my clients unprepared for a Disney trip again. I love sharing my knowledge with friends, family, and other Disney Vacation travelers, and I would love to help you book and plan your next Disney Vacation.
As a graduate of the College of Disney Knowledge, Crystal Connors is a Disney Specialist, which indicates an individual who has attained a special knowledge of Disney Destinations (not an agent, affiliate, or employee of Disney).
Contact Crystal today!
Phone: 1-888-642-5398 x700
Email: crystal@dreamcometruevacations.com
Facebook: https://www.facebook.com/DCTVbyCrystal
Instagram: https://www.instagram.com/dctvbycrystal/