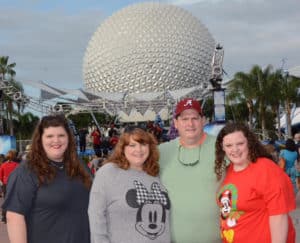 Sonya Douglas has been a Disney fanatic since childhood and had her first experience at Walt Disney World on her honeymoon in 1991.  She & her husband also recently celebrated their 25th anniversary there.  The first time she saw the Cinderella Castle it brought tears to her eyes and still does to this day when she sees it at the beginning of each trip to Walt Disney World. Sonya's love for Disney has grown so much throughout the years; it has spread throughout her entire family. Sonya loves sharing the place she loves with her husband Paul and two daughters, Amanda and Alyssa.  They make memories to last a lifetime with each trip they take.
Sonya is so grateful for all the experiences she has had with her family at Walt Disney World that she wanted to give other families a chance to have their dreams come true and make those memories that will last a lifetime. She decided to start planning vacations for her friend's families. Planning vacation for friends turned into friends of friends, so she decided to enroll in the College of Disney Knowledge.
Since 2007 Sonya has been planning magical vacations to all Disney Destinations and has enjoyed every minute of it. Sonya is an expert in traveling through "the World" and has stayed in many of the Disney resorts including, Value, Moderate, and Deluxe categories. She also loves cruising on Disney Cruise Line and traveling to Disneyland.  Sonya would love to speak with anyone about Disney Destination vacations and you can contact her through her Cellphone: (205) 894-2424 or at 1-888-642-5398 ext 747 or email Sonya at DreamComeTrueVacations.com .
As a graduate of the College of Disney Knowledge, Sonya Douglas is a Disney Specialist, which indicates an individual who has attained a special knowledge of Disney Destinations (not an agent, affiliate or employee of Disney).